Finally stumbled through one of the larger hidden lies in Volume IV C5 (PDF link) of the Pentagon Papers.  During discussions regarding initial deployment of American troops to Vietnam, President Johnson, General Westmoreland along with military and White House policy advisers discussed how to salvage honor if the war was lost. It was a truly sobering read. How did they get to a point where discussions danced around losing Vietnam before we actually became engaged by deploying initial troops to South Vietnam?
I feel that more reports documenting a losing effort will continue to surface as I make my way through all 7,000+ pages of the study.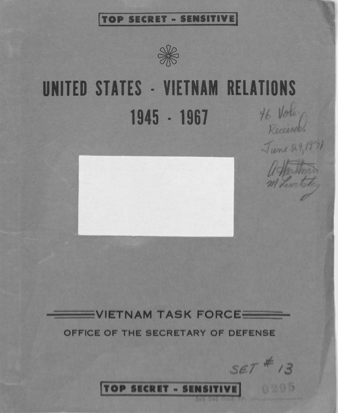 On the surface it should shock Americans today to read the reports and both military and diplomatic cables that show President Johnson, General Westmoreland & their aides planed how to deal with losing the war in Vietnam in mid 1965.
Regrettably if you read previous volumes of the Pentagon Papers its very clear America had absolutely no reason to back Diem and the South in its war against the communist North….other than the domino theory that was gripping global politics.  They knew well before '65 that South Vietnam would fall to the communists.
US involvement in Vietnam and to a greater extent South East Asia began during the late stages of World War II.  During the 1961 Presidential transition we learned President Eisenhower briefed incoming President elect Kennedy that Americans would again be drawn into war in Laos — not Vietnam.  The Johnson White House clearly understood the history of failed efforts by the US to aid South Vietnam in it's long protracted war against the communist North.
While it was Watergate that would later gave us the catch phrase "What did the President know and when did he know it" clearly Volume IV-C5 reveals Johnson and his White House advisers knew between March and July of 1965 that South Vietnam could not win their war.  Mid 1965 — its already understood we cannot turn the tide against the North Vietnamese and the Viet Cong?
These memorandums appear on roughly page 1,780 in Volume IV-C5 and just five months before the battle of the Ia Drang valley.  Today some will recognize this battle by the critically acclaimed book We Were Soldiers Once… And Young. Many remember the 2002 movie starring Mel Gibson.  305 Americans died in this battle. And while winning at LZ X-Ray, horrifically American soldiers marched to LZ X-Albany where the stung enemy ambushed and killed an additional 155 Americans.  So even before waging this battle the White House knew it was a losing effort.  Again, just stunning to read these cables and reports by key members of the White House and armed forces outlining how to bring US soldiers into Vietnam in a formal landing while working on a strategy to salvage face (against the Soviets and Chinese) while understanding their efforts were inevitability a lost cause.
Volume IV C5 reveals the deep ties of four consecutive Presidential Administrations regarding Southeast Asia, Laos and Vietnam.  Beginning with Truman in 1945 to Eisenhower, then Kennedy and at the time of the writing – Johnson with Richard Nixon to take over and expand the War after 1968.  Despite an initial deployment of 44 US battalions (~57,200 troops) to Vietnam to help fight the war all reports by military and civilian analysts, well…now we can read for the first time – 40 years later….it was all just bullshit from before our troops even landed at Da Nang.
Pentagon Papers:  Part IV. C5: Evolution of the War.
Phase I in the Build-up of U.S. Forces: March – July 1965
Section: N:  The U.S. Moved to Take Over the Land War — The Search and Destroy Strategy and the 44 Battalion Debate
Subsection: D:  Search and Destroy as a Strategy and 44 Battalions as a Force
Key participants:  President Johnson, General Westmoreland, Assistant Secretary of State William Bundy, US Ambassador to South Vietnam Maxwell Taylor, Under Secretary of State George Ball & Assistant Secretary of Defense John McNaughton
Extracted Text: Pages 104 – 116:

Page 104:
Section D: Search and Destroy as a Strategy and 44 Battalions as a Force
—
Page 114:
This message was extremely important, for in it COMUSMACV [Commander, U.S. Military Assistance Command, Vietnam] spelled out the concept of keeping U.S. forces away from the people. The search and destroy strategy for U.S. and Third Country forces which continues to this day and the primary focus of RVNAF on pacification both stem from that concept.  In addition, Westmoreland made a big pitch in this cable for a free hand to maneuver the troops around inside the country. That is the prerogative of a major field commander — there is good indication that at this stage Westmoreland saw himself in that light rather than as advisor and assister to the Vietnamese armed forces.

Ambassador Taylor returned to Vietnam from Washington shortly after the battle at Dong Xoai, just as the new Thieu-Ky government was being installed. His first report confirmed the 'seriousness of the military situation as reported by General Westmoreland and also pointed up the very tenuous hold the new government had on the country.  This report apparently helped to remove the last obstacles to consideration of all of the forces mentioned in Westmoreland's request of 7 June. On 22 June, the Chairman of the JCS cabled Westmoreland and CINCPAC to inform them that the ante had gone up from 35 to 44 battalions, counting all forces planned and programmed and including the 173rd. Westmoreland was asked if 44 battalions would be enough to convince the VC/DRV that they could not win. General Westmoreland replied that there was no evidence the VC DRV would alter their plans regardless of what the U.S. did in the next six months. The 44 battalion force should, however, establish a favorable balance of power by the end of the year. If the U.S. was to seize the initiative from the enemy, then further forces would be required into 1966 and beyond.

On the 26th of June, as has already been noted, General Westmoreland was given the authority to commit U.S. forces to battle in support of RVNAF "in any situation .."when, in COMUSMACV's judgment, their use is necessary to strengthen the relative position of GVN forces."  This was about as close to a free hand in managing the forces as General Westmoreland was likely to get. The enclave strategy was finished, and the debate from then on centered on how much force and to what end. There were some attempts to snatch the chestnuts from the fire, however.

Westmoreland's opposition, while far from presenting a united front, had its day in court during late June and early July 1965. The Embassy in Saigon, "'while recognizing the seriousness of the situation in South Vietnam, was less than sanguine about the prospects for success if large numbers of foreign troops were brought in. Deputy Ambassador U. Alexis Johnson told Assistant Secretary of Defense McNaughton on 25 June that the U.S. should not bring in more troops. The situation,
according to Johnson, was in many ways no more serious than the previous
—
Page 115:
year. Even if it were more serious, he went on, massive input of U.S. troops was unlikely to make much difference. The best they could do would be to hold a few enclaves. Johnson pointed out that the Vietnamese were afraid they would lose authority if more U.S. troops were brought in. He advised that the U.S. allow the forces already in the country to settle. After some experimentation with them, the way would be much clearer. Once in, troops could not, without difficulty, be-taken out again.

The views expressed by Johnson to McNaughton parallel those of Ambassador Taylor throughout the build-up debate. Both men were very much concerned with the effect of the proposed build-up on the Vietnamese; They were not directly opposed to the use of U.S. forces to help the GVN; they merely wanted to go very slowly to insure against loss of control.

At the opposite end of the spectrum from General Westmoreland was Under Secretary of State George Ball. Convinced that the U.S. was pouring it's resources down the drain in the wrong place, Ball placed himself in direct opposition to the build-up. In a draft memorandum he circulated on the 28th of June, Ball stated that Westmoreland's intention was to go to Phase III combat (Phase III of the 8 May Concept of Operations which called for US/Allied forays inland to secure bases and areas for further operations). In Ball's view there was absolutely no assurance that the U.S. could with the provision of more ground forces achieve its political objectives in Vietnam. Instead, the U.S. risked involving itself in a costly and indeterminate struggle. To further complicate matters,· it would be equally impossible to achieve political objectives by expanding the bombing of the North — the risks of involving the USSR and the CPR. There too great, besides which such action would alienate friends. No combination of the two actions offered any better' prospect for success. Since the costs to achieve its objectives if the U.S. embarked on an expanding program were indeterminate, the U.S. should, in Ball's view, not elect to follow such a course of action.   It should instead "cut its losses" by restricting itself to the programmed 15 battalions and 72,000 men made public at a press conference in mid-June by the Secretary of Defense.  By holding those forces to a very conservative Phase II strategy of base defense and reserve in support of RVNAF, U.S. combat losses could be held to a minimum while the stage was being set for withdrawal.

Ball was cold-blooded in his analysis. He recognized that the U.S. would not be able to avoid losing face before its Asian allies if it staged some form of conference leading to withdrawal of U. S. forces.  The loss would only be of short term duration, however, and the U.S. could emerge from this period of travail as a "a wiser and more mature nation." On 1 July, Ball sent to the President a memorandum entitled "A Compromise Solution for South Vietnam." In that memorandum, Ball presented his case for cutting losses essentially as it is described above.
—
Page 116:
Assistant Secretary of State William Bundy, like so many others, found himself in between Westmoreland and Ball.  The U. S. needed to avoid the ultimatum aspects of the 44 battalions and also the Ball withdrawal proposal, both of which were undesirable in Bundy's estimation. On 1 July, Bundy suggested to the President that the U.S. should adopt a policy in which you could allow it to hold on without risking disasters of scale if the war were lost despite deployment of the full 44 battalions. For the moment, according to Bundy, the U.S. should complete planned deployments to bring in-country forces to 18 maneuver battalions and 85,000 men. The Airmobile Division and the remainder of the 1st Division should be brought to a high state of readiness, but the decision as to their deployment should be deferred. By so acting the U.S. would gain time in which to work diplomatically to realign Southeast Asia and thereby salvage its honor and credibility. The forces in Vietnam, which Bundy assumed would be enough to prevent collapse, would be restricted to reserve reaction in support of RVNAF. This would allow for some experimentation without taking over the war effort — a familiar theme. Bundy felt, as did Ambassador Taylor, that there remained considerable uncertainty as to how 'well U.S. troops would perform in the Vietnam environment. We needed to find out before going big.
While our America's leaders (and their advisers) knew the writing was on the wall — they nevertheless marched America into that darkness.
And we needed to find out before going big?  Really?  58,195 American lives and 350,000+ casualties.
Think that was big enough?